Please read before information below images before placing order!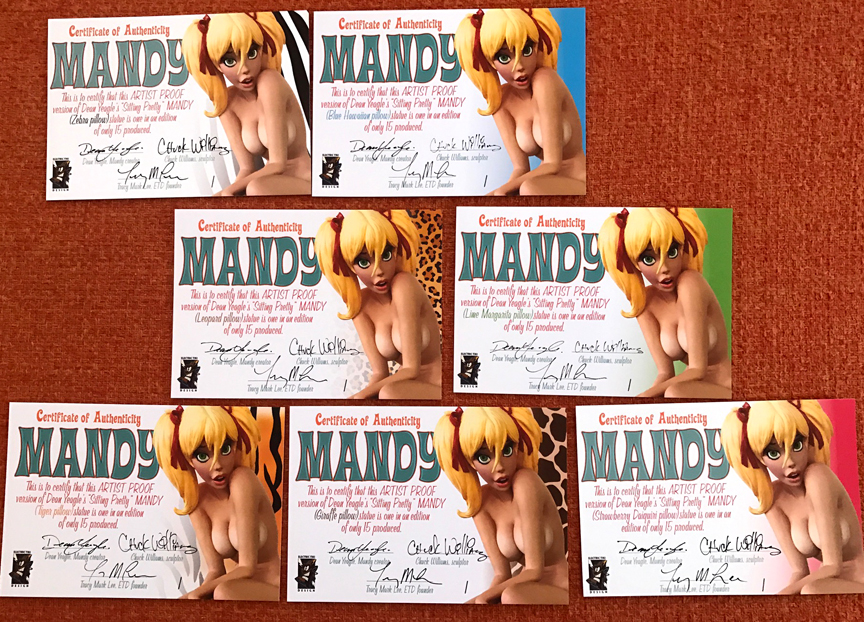 We have a special Artist Proof edition of Dean Yeagle's "Sitting Pretty" Mandy statue available. It comes with a special "Certificate of Authenticity" hand numbered and signed by sculptor-Chuck Williams, Electric Tiki founder-Tracy Mark Lee and Mandy creator himself, Dean Yeagle. All 7 pre-painted pillow versions are available in an edition of only 15 each. We are letting the buyer pick the specific edition number of their choice. There is tier pricing for the specific edition numbers. Keep in mind that only certain edition numbers are available. Prices are as follows and are the same for each variant:
#1 $499.99
#2-15 $349.99
Please e-mail us directly if you wish to purchase a #1 Artist Proof.
For #2-15 Artist Proofs, please select from the drop down menu below.
All regular editions are now sold out.
1/4 scale--dimensions (toe to head) are app. 11.5"h x 7"d x 7"w (she'd be app. 15" tall standing)
-Retail price on each version is $299.99
-$100 pre-order deposit which is non-refundable
- Acrylic stand not included
Versions include - Strawberry Daiquiri (Magenta Pillow)- Limited to 100 - Lime Margarita (Chartreuse Pillow) limited to 50 - Blue Hawaiian (Blue Pillow) limited to 60 - Leopard limited to 60 - Tiger limited to 60 - Zebra limited to 90 - Giraffe limited to 50- "Design your own" (blank pillow)-30
-We based the above edition sizes on our pre-orders, so if you have pre-ordered a particular version there can be no substitutions for another version.
-Overall edition size (including all painted variants) is 500. Variant edition sizes subject to change within that 500.
-Actual shipping date will be second quarter 2016
-Delays may occur and usually do, so please be patient
-Shipping & handling prices shown (below on map) are an estimate and are subject to change
-For international orders to countries other than those listed...just place the pre-order and if for some reason we can't accomodate shipping to your country your deposit will be refunded
-Due to the extreme limited nature of these editions, allocations may occur. Orders will be processed on a first come first serve basis.
-Production is strictly limited so there can be no exchanges if item is damaged---only refunds
-By placing an order, you have agreed to all the above