The Electric Tiki Design #1 Artist Proof and #0 prototype sale!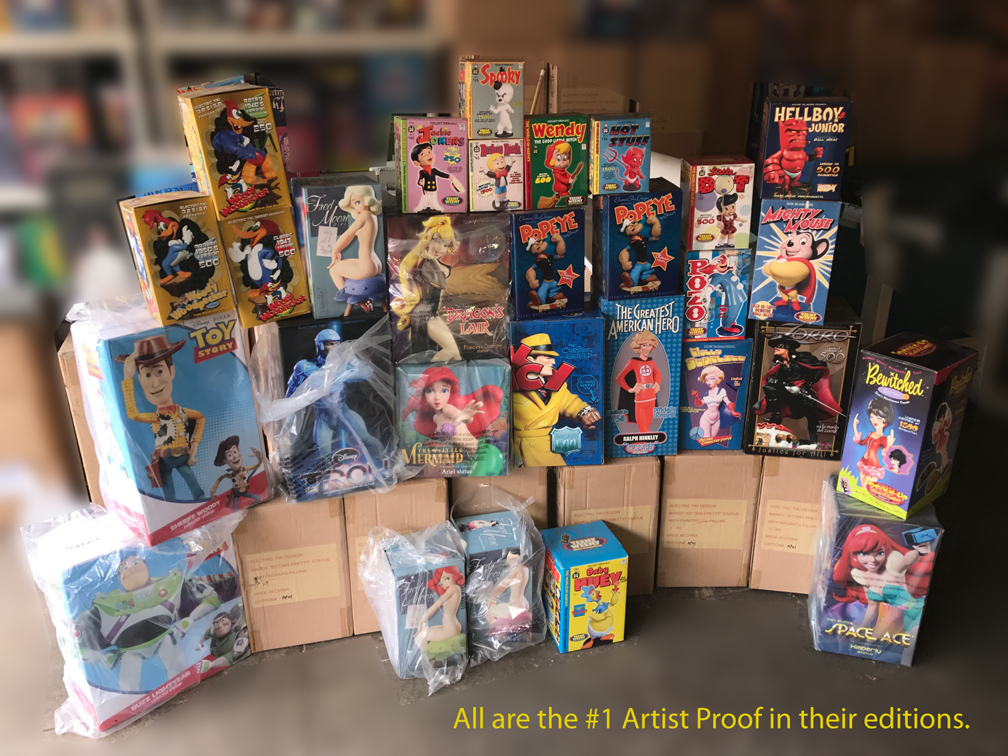 Prices listed are preferred prices based on rarity, popularity, recent Ebay sales, if any, and a premium for being the lowest number available. We will entertain any offers if they aren't too "off the mark". In other words, offering half of the asking price will not be accepted. If they are multiple offers for the same piece we will determine if any of the "bids" are acceptable, just e-mail us with offers. We will weigh any bids of over a period of time. We will let winning bidders only know if their bid has been accepted. If pieces aren't sold we will offer them on Ebay. Thanks!
Also, what is pictured are the ONLY statues being offered. Shipping on any order within the continental US under $500 will be a flat $15, anything over $500 will ship for free. AK, HI, territories an international shipping will have to be quoted.
Artist Proof (AP) number one (#1) editions:
In some cases we produced a separate artist proof edition or our regular statues. In some cases these were identical to the regular edition and in some instances there may have been a different colored version of the regular edition statue. Any variants will be noted below. I
n many cases on 15-25 of these AP versions were produced.
Fred Moore Girl Cinnamon-$1200
Fred Moore Girl Licorice-$1000
Fred Moore Girl Vanilla-$800
"Sitting Pretty" Mandy (any variant)- $500
Comes with Certificate of Authenticity signed by Dean Yeagle, Chuck Williams and Tracy Mark Lee
Animated Ladies-Ariel statue- $800
Animated Ladies-Princess Daphne statue- $1200
Comes with Certificate of Authenticity signed by Don Bluth, Gary Goldman and John Pomeroy
Animated Ladies-Space Ace- Kimberly statue- $750
Comes with Certificate of Authenticity signed by Don Bluth, Gary Goldman and John Pomeroy
Classic Heroes Zorro statue- $500
Classic Heroes TRON statue- $500
Classic Heroes Sheriff Woody statue- $300
Classic Heroes Buzz Lightyear statue- $300
Classic Heroes Dick Tracy statue- $400
Woody Woodpecker Retro version- $600
Woody Woodpecker Classic version- $600
Woody Woodpecker Modern version- $600
Popeye Classic- $500
Popeye Classic (Black and White)- $400
Mighty Mouse-first edition-$600
Casper regular-$300
Casper –inviso-$400
Wendy the Witch- $250
Spooky- $300
Hot Stuff- $400
Little Dot- $250
Richie Rich- $250
Baby Huey-$250
Jackie Jokers-$200
Bozo-$250
Hellboy Junior -$300
"Tooned Up" Bewitched Serena (red dress)- $300
"Tooned Up" Ralph Hinkey (Greatest American Hero)- $300 (comes with certificate of authenticity signed by actor William Katt)
Holly Starlite- $200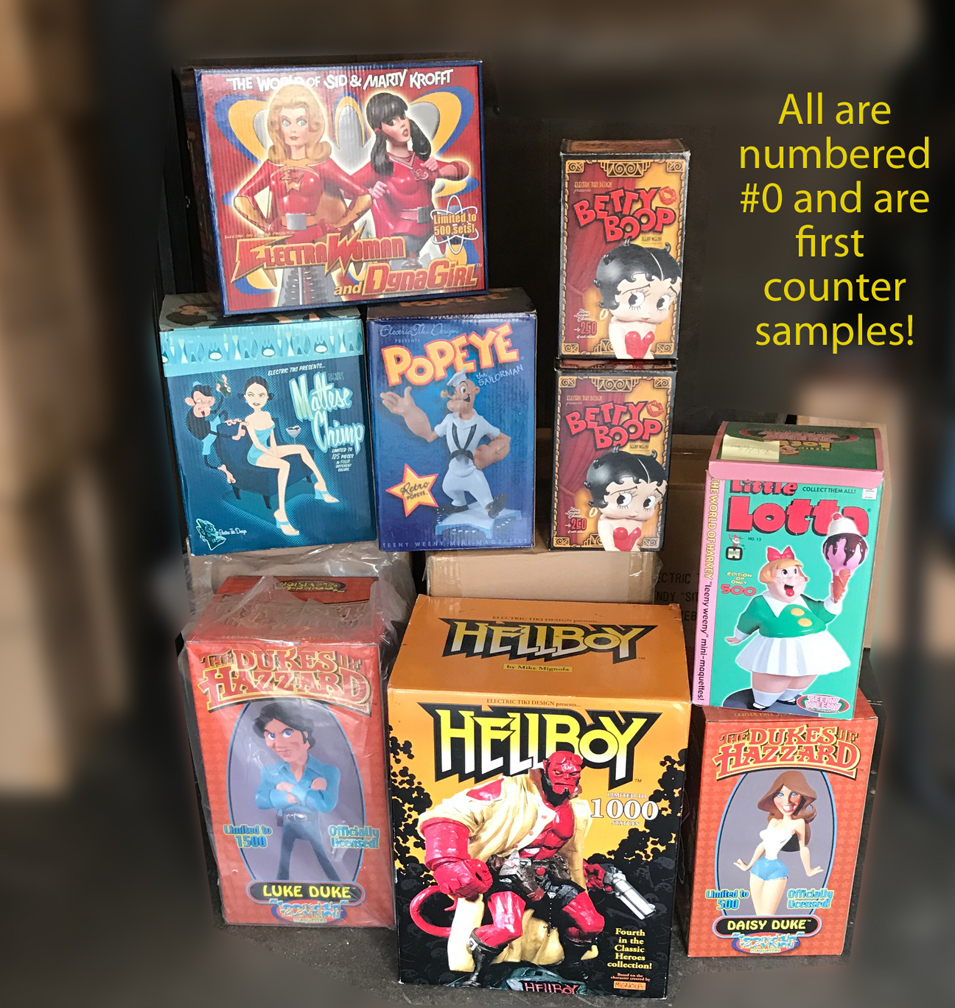 ZERO editions:
Zero editions are basically the first complete counter sample we receive from our Factories. This is what the final, packaged product looks like. Some of our factories number these #0 since they do not fall into the numbering of the regular edition size. They are identical to the regular product and usually have the best paint apps since this is our final approval model.
Hellboy- $300
Maltese Chimp (Brown-Scotch version)- $250
Electra Woman and Dyna Girl- $200
Betty Boop ( Black and White version) $200
"Tooned Up" Daisy Duke- $250
"Tooned Up" Luke Duke- $200
Popeye (retro-white suit version) $300
Little Lotta- $100
Please read before information below images before placing order!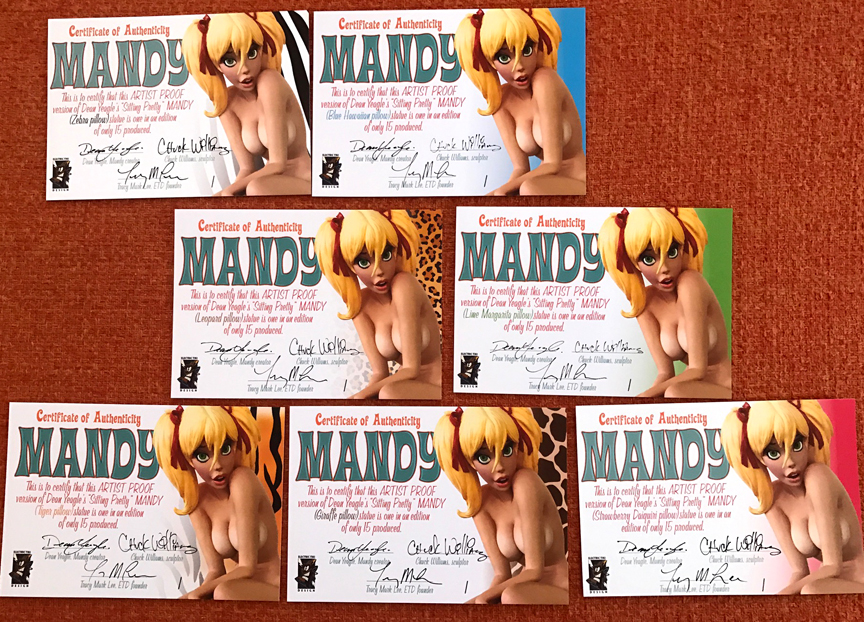 We have a special Artist Proof edition of Dean Yeagle's "Sitting Pretty" Mandy statue available. It comes with a special "Certificate of Authenticity" hand numbered and signed by sculptor-Chuck Williams, Electric Tiki founder-Tracy Mark Lee and Mandy creator himself, Dean Yeagle. All 7 pre-painted pillow versions are available in an edition of only 15 each. We are letting the buyer pick the specific edition number of their choice. There is tier pricing for the specific edition numbers. Keep in mind that only certain edition numbers are available. Prices are as follows and are the same for each variant:
#1 $499.99
#2-4 $449.99
#4-9 $399.99
#10-15 $349.99
Please e-mail us directly if you wish to purchase an Artist Proof.
For regular editions, please click the appropriate version below.
1/4 scale--dimensions (toe to head) are app. 11.5"h x 7"d x 7"w (she'd be app. 15" tall standing)
-Retail price on each version is $299.99
-$100 pre-order deposit which is non-refundable
- Acrylic stand not included
Versions include - Strawberry Daiquiri (Magenta Pillow)- Limited to 100 - Lime Margarita (Chartreuse Pillow) limited to 50 - Blue Hawaiian (Blue Pillow) limited to 60 - Leopard limited to 60 - Tiger limited to 60 - Zebra limited to 90 - Giraffe limited to 50- "Design your own" (blank pillow)-30
-We based the above edition sizes on our pre-orders, so if you have pre-ordered a particular version there can be no substitutions for another version.
-Overall edition size (including all painted variants) is 500. Variant edition sizes subject to change within that 500.
-Actual shipping date will be second quarter 2016
-Delays may occur and usually do, so please be patient
-Shipping & handling prices shown (below on map) are an estimate and are subject to change
-For international orders to countries other than those listed...just place the pre-order and if for some reason we can't accomodate shipping to your country your deposit will be refunded
-Due to the extreme limited nature of these editions, allocations may occur. Orders will be processed on a first come first serve basis.
-Production is strictly limited so there can be no exchanges if item is damaged---only refunds
-By placing an order, you have agreed to all the above
"Tiki, T-Dog & Whatnot" 48 page, hardback, full color sketchbook signed by Tracy Mark Lee. $24.99 plus $6 shipping/handling. In stock, ready to ship.
Please note that there is nudity inside!
(Ships worldwide, but orders outside the US require additional postage. Please inquire before placing an order