Updated 2/27/10
Some shots of the paint master of the "Tooned Up" Spike maquette... both human and vamp. More news to come soon.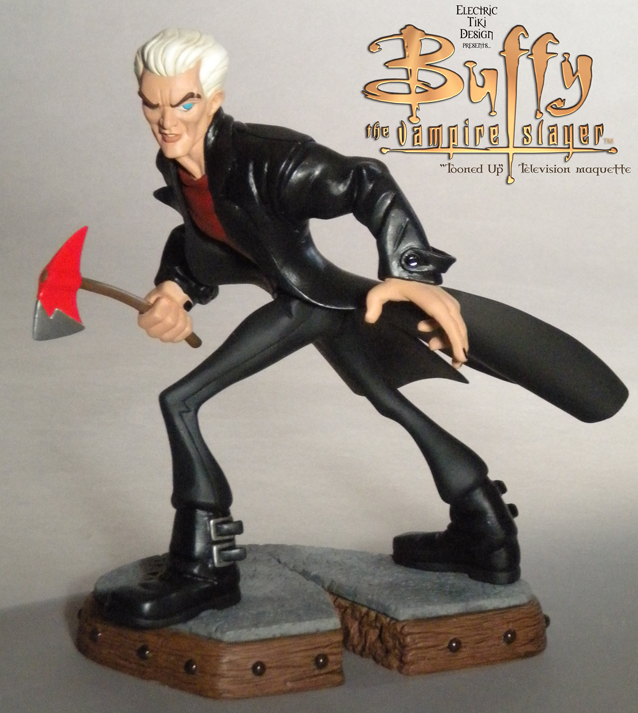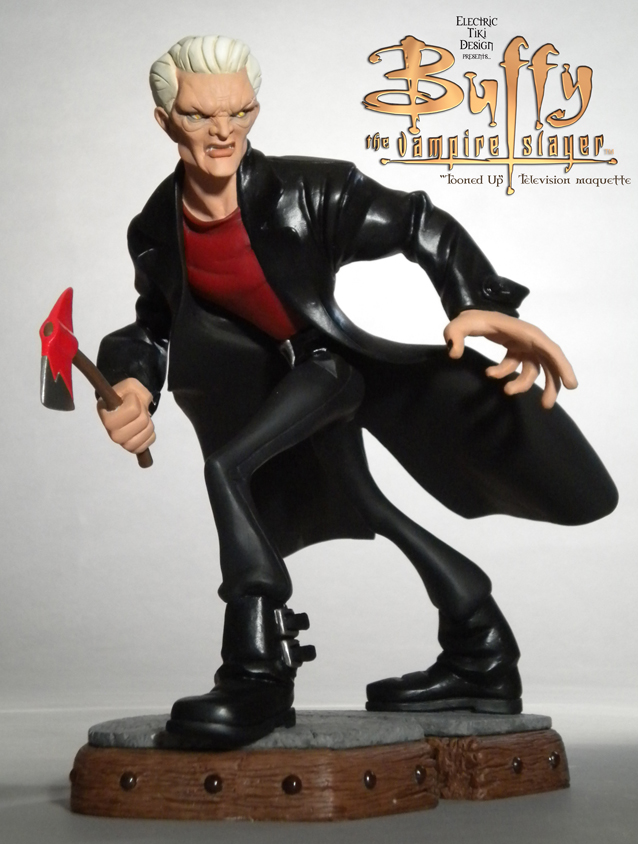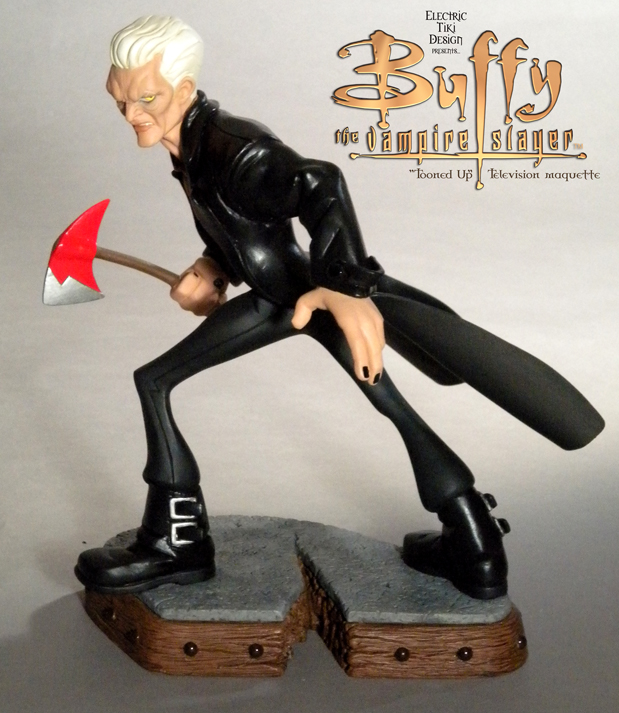 Here are a couple of shots of Faith! The red shirt version will be an exclusive of some sort. Both will have interchangeable hands and come with knife and stake.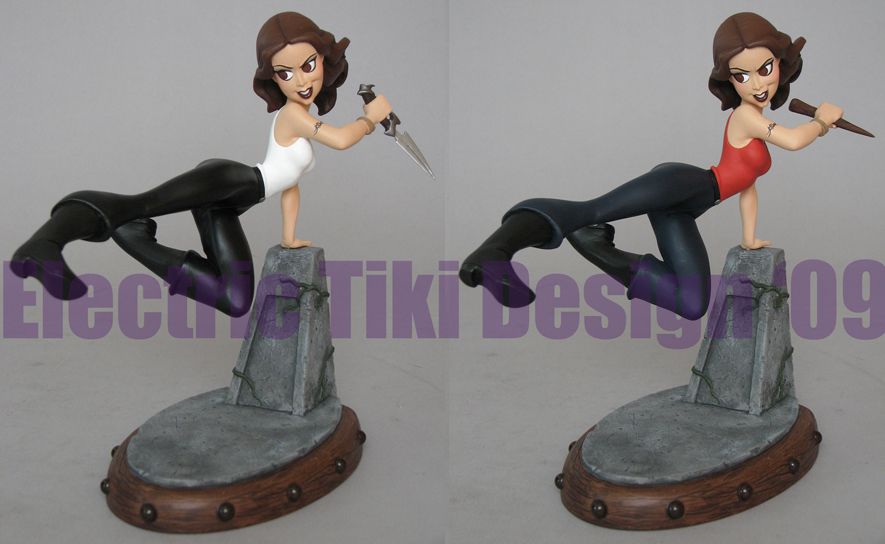 Here are a couple of quick snaps of the tweaks we made to Glory's face sculpt. They are subtle indeed, but feel they reflect the look of the design a bit more.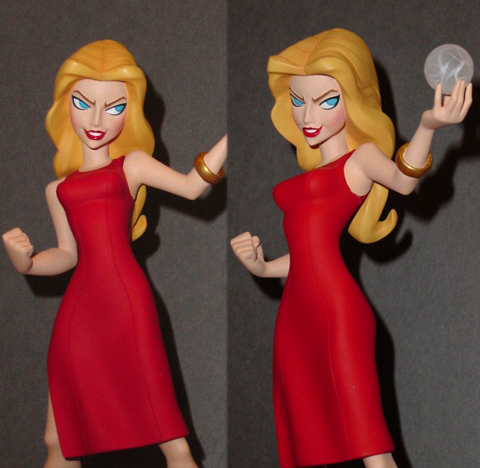 A sneak of the package art for next month's Willow release.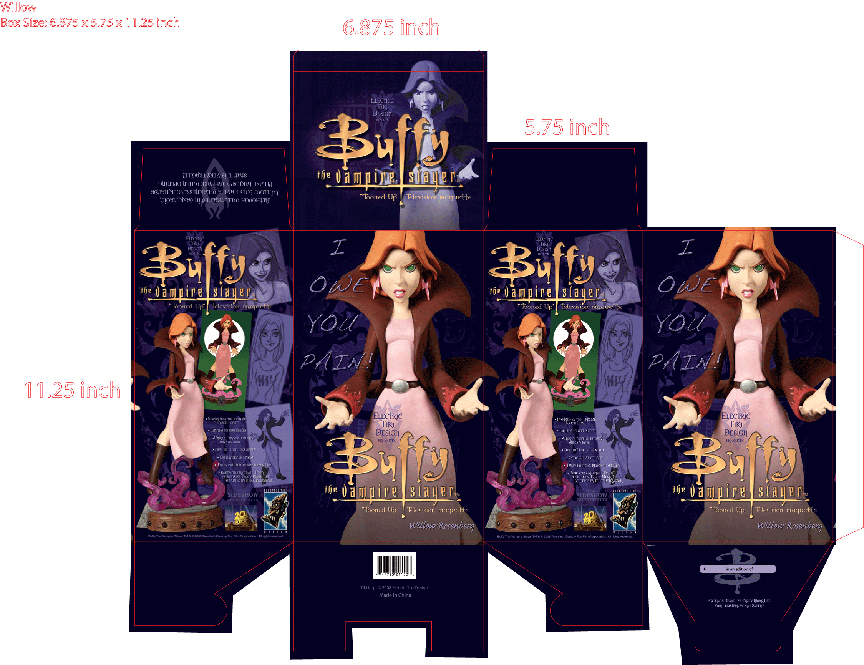 Here are three new Buffy maquettes set to be premiered at Comic Con. Buffy 2 ("End of Days" version) and Dark Willow will be limited to initial orders as usual. Glory, however will be an exclusive with only 500 pieces produced. Get 'er while the gettin's good. Sorry for the "not so great" pics. We hope to have better ones after the con!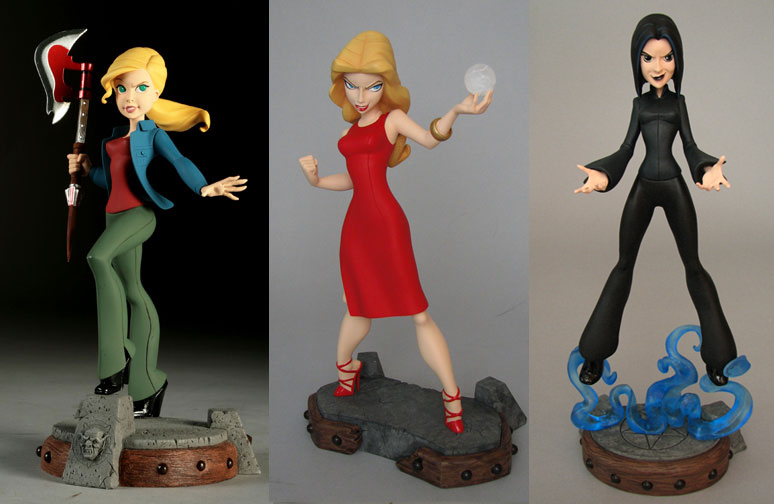 Approved Faith design. At least a year off if she gets produced.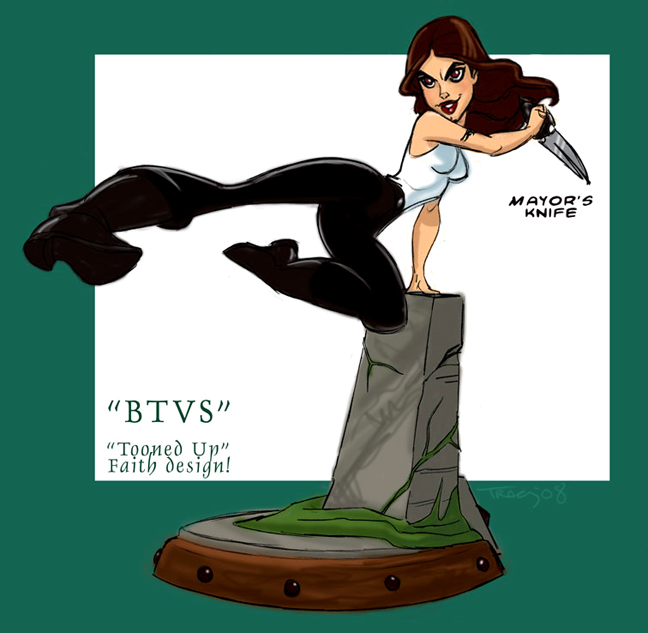 The first Willow Rosenberg maquette is now up for pre-order at Sidehshow's website. Affectionately referred to as "Vengeance Willow", the outfit/ concept was taken (obviously) from the episode "Tough Love". Click on the image below to pre-order yours.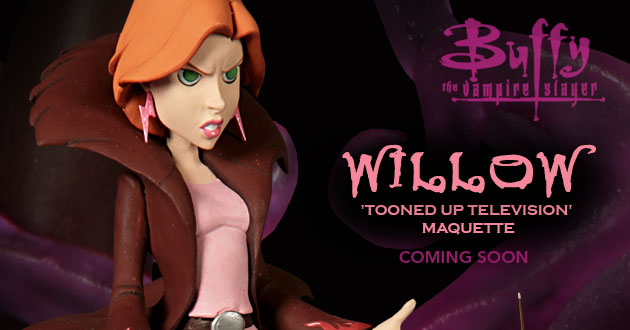 Just thought we'd post a pic of the packaging art for the first Buffy maquette.
It shows how the interchangeable hands/ weapons look. Current ship date is late May.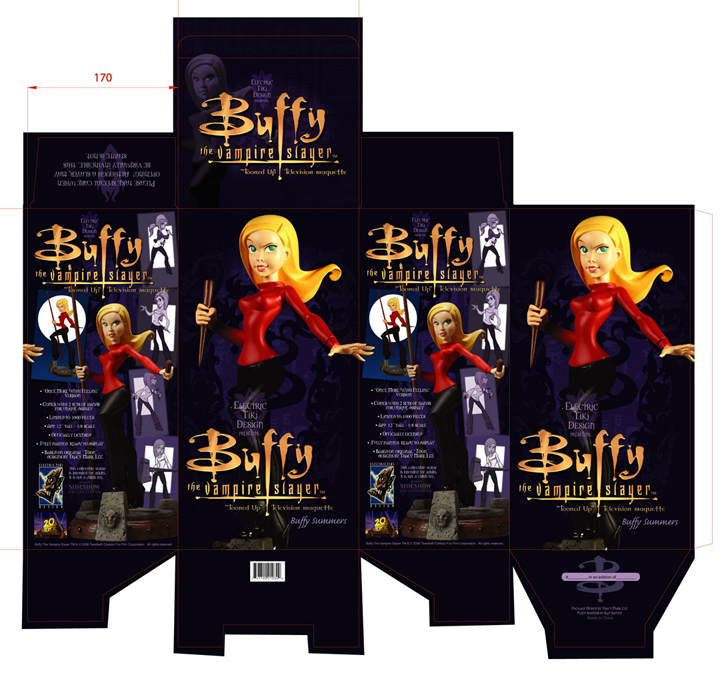 Sneak peeks of the upcoming "Vengeance Willow"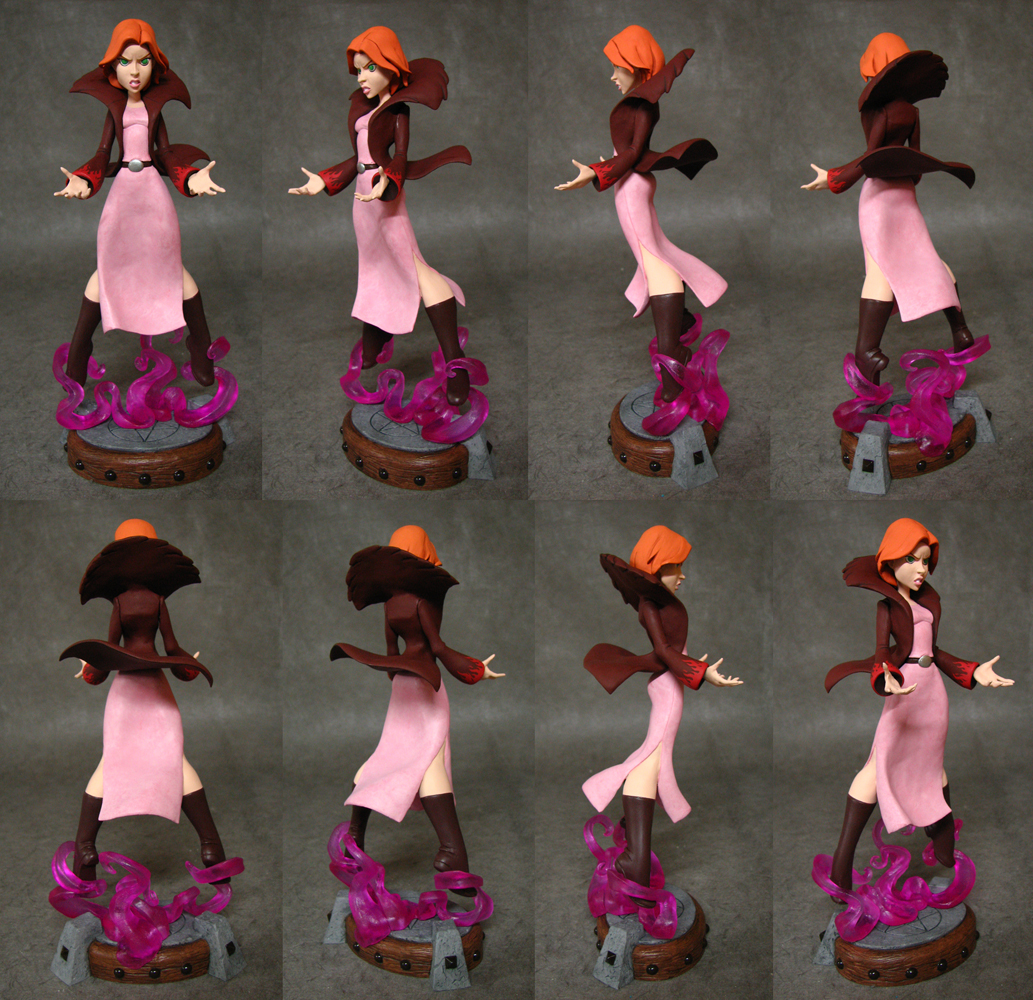 Electric Tiki and Sideshow Collectibles are proud to present Buffy Summers, the latest character to join Tracy Mark Lee's Tooned Up Television series, an ongoing salute to classic TV characters. Buffy the Vampire Slayer is both a cult and mainstream fan favorite, an oddity to be sure. The saga of an unlikely hero, the young teen drama queen turned savior has converted fans from all walks of like, and lives on today through sindicated television, DVD's, and Joss Whedon's new comic series. SRP $89.99. For ordering info. please visit's Sideshow's website!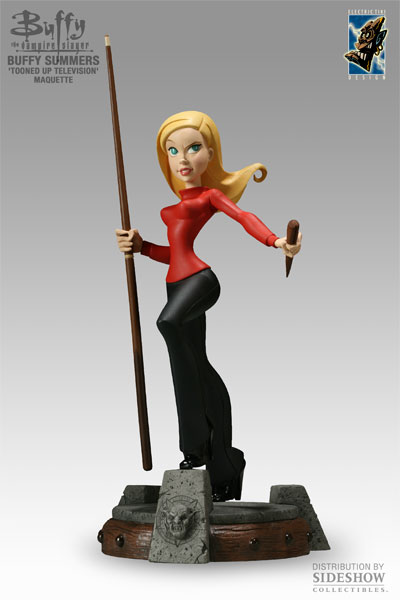 We've been getting ton's of e-mails requesting (in some cases demanding) more info on our "Tooned Up" Buffy line. Below are all of the designs that have been submitted to Fox for approval. An interesting note is that even though they are "cartoony" designs that don't rely 100% on the actor's appearance, some still have to go through the actor for approval. Once again, these are not intended to be caricatures of the actors. There are more exploration sketches (particularly of Willow and Caleb) that have never been seen in my new sketch book here. In the mean time click on the design images (just below the statue pic) for bigger images and a bit more insight into the designs.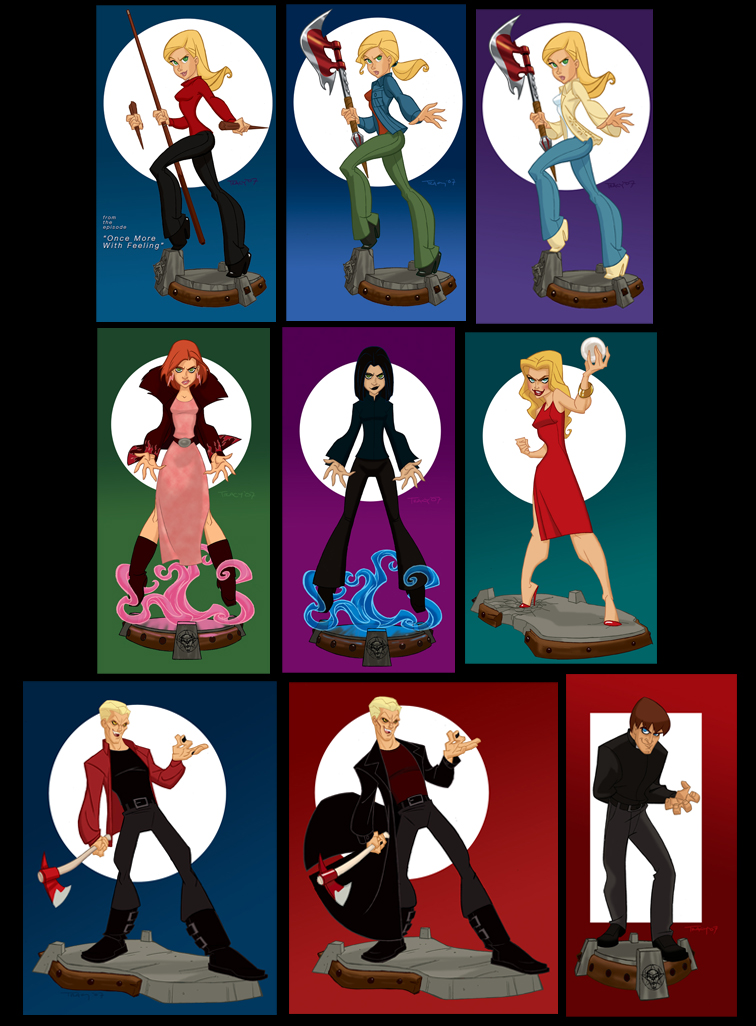 Updated 11/8/06